This post is intended for an audience of adults age 18 and older.
Disclosure: This shop has been compensated by Collective Bias, Inc. and its advertiser. All opinions are mine alone. #CueTheNewYear #CueVapor #SatisfactionAtLast #CollectiveBias
Guys, can you believe that it is the middle of May? It's crazy to me to think that four months of the year have already
flown by! My babies are getting ready to have their birthdays, another school year is coming to an end, and we are
gearing up for Summer fun! It's hard to believe that it's already Spring!
The truth of the matter is, usually by this time of the year, I have already fallen off the wagon when it comes to my
New Year's goals and resolutions. My big plans and dreams for the new year are usually long gone by the time
bikini season hits. Crazily enough, this year has been different for me! I don't know if it's because I am in SUCH
a different place in my life than I have ever been before or what, but for some reason, it's the middle of May and I
still have my eyes on the prize, and I am going hard to reach my goals. I think honestly, I am so far deep into what
we are doing this year, that I have had my head in the sand a little bit, and that's why the first few months of the
year have passed by so quickly.
As many of you know, one of my biggest goals in 2018 has been to get out of debt, so we can buy a house in the
fall. We have been knee deep in the Dave Ramsey plan and becoming financially secure, and one of the biggest
and best feelings came just a few weeks ago, when we paid off our car, four years early! This means that we are
well on our way to buying a house, and that as of right now, this very second, we are consumer debt free!! What a
great feeling, and I can tell you guys that making that final car payment has really made all of the sacrifices worth
it for us!
However, along with the joy of paying off that beautiful car comes with a few changes. That car out
there in the driveway, it's 100% mine now, and I find myself being extra cautious when it comes to taking
care of it. No more handing the kids a juice box in the backseat, no more snacking on fries on the way home,
and most of all, no more stinking up my car with smoke.
I recently discovered the Cue™ Vapor System, and it really is changing a lot of things in my life. I have to admit
that making the switch to using Cue products was for selfish reasons for me, since I needed nicotine that was low
on the "stink factor" scale, if you know what I mean. I hate, hate, HATE the shame that goes along with smoking
, as I am sure that most smokers do. I have been switching to Cue products lately and I am really happy with my
decision to do so, for a number of reasons.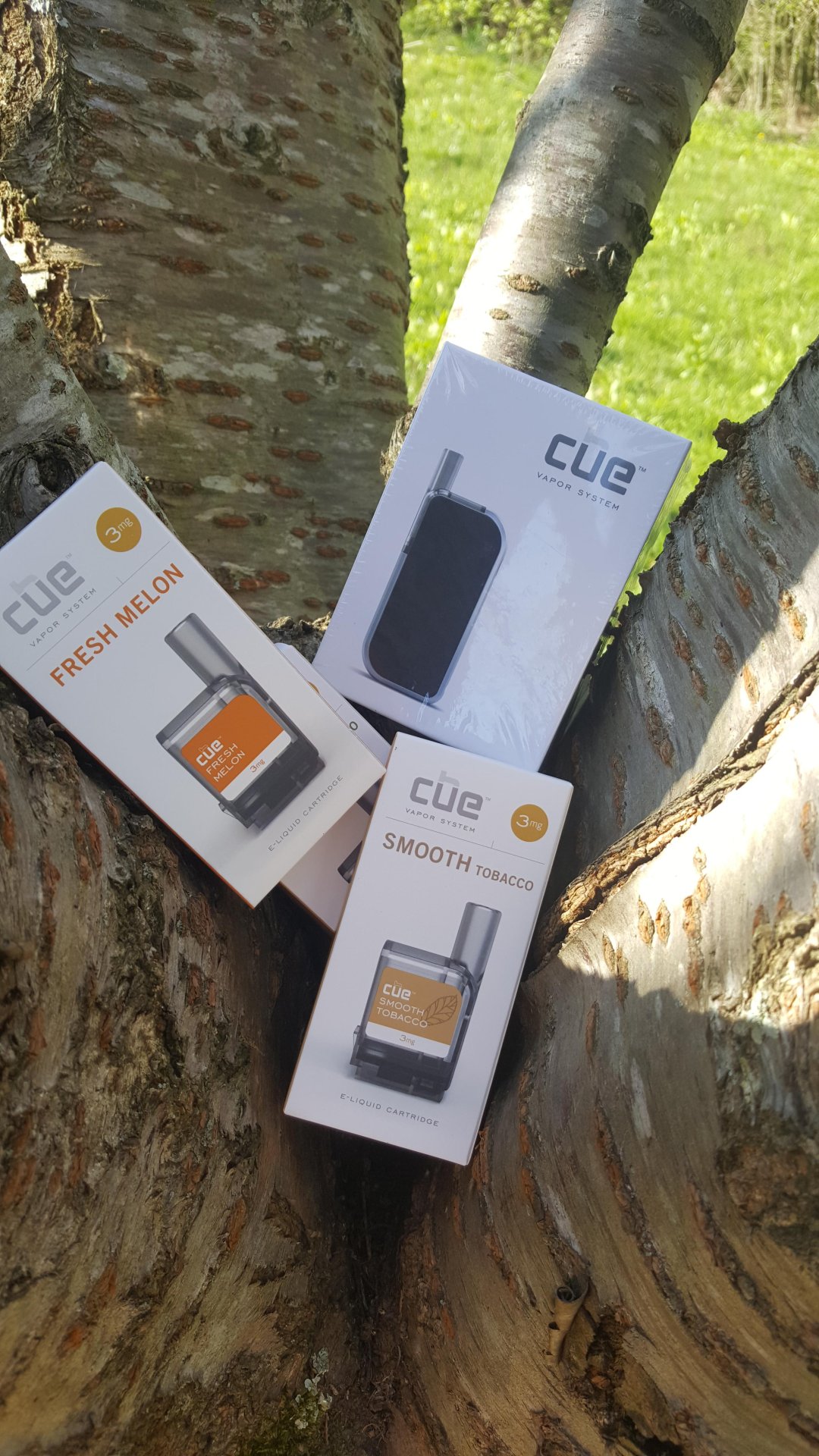 (Click the photo above to purchase right now!)
My big issue with vaping has always been the fact that I thought it was complicated. I am too busy to be worrying
about building coils, mixing juice, charging batteries, and carrying around a bunch of stuff to add to the huge
bunch of junk I already have to carry around. This is one of the reasons that I put off vaping for so long, but
with Cue Vapor, everything is different. Seriously, this company's motto is Vaping. Made Simple.®, so it's like
they were made for me! Another great thing about Cue products is that I am able to pick them up at my local
Kroger store (at the customer service desk), which means I can swing by and get what I need during my regular
grocery shopping, no fuss!
Seriously, from the time I got started with Cue products, I really started to feel a lot differently about vaping as a
whole. I feel really inspired and really motivated to reach my goals and I am starting to see that there are things
out there to help me do what I want to do, without all the fuss and hype. The Cue Vapor System is incredibly
simple,and that is what I love about it most.
From the time you open up your Cue Vapor System, it takes just a few minutes to get started. Seriously,
you can break it down into just a few simple steps.
Step #1: Charge the device with the included mini USB charging cable until the light turns green.
(You can even do this in your car, so you can charge on the go, which I love! My Cue Vapor System fits
right into my car's center console!)
Step #2: Remove your e-liquid cartridge
(whichever one you choose, there are so many flavors!)
from the
foil packet and remove the small silicone plugs from the bottom, the side vents, and the mouthpiece.
Step #3: Slide the cartridge into the device
(at a slight angle)
until it snaps into place.
Then click the power button five times rapidly to turn the device on.
Seriously, I am not kidding. Those are the three steps. If your device is already charged up and ready to go,
inserting your cartridge or switching your flavor literally takes less than ten seconds. How's that for simple?
I love, love, love that all you need for the Cue Vapor System is included in the box. The device itself, the e-liquid
cartridge, the mini USB charger, and even a "buddy tip" so you can share your Cue with a friend! I am especially
loving the Fresh Melon flavor, it is perfect for summer! Another great thing about Cue Vapor Products is that you
can
sign up for their subscription
program and save 15% on cartridges! If y'all know me, you know I am all about
saving money, so this is right up my alley! To find Cue products in a store near you, just
click here
for the store
locator. Oh, and follow Cue on
Twitter
and
Instagram
if you want to stay up to date with all their latest offerings!
I am really enjoying my Cue products. It's just what I needed, a simple "click and vape" technology that isn't
too complicated, and gives me exactly what I need without a lot of fuss. I love that there are so many different
colors of the Cue system along with all the different flavors, so you can really customize it to your own personal
style. Oh yeah, and being the clean freak mom that I am, I almost forgot to tell you guys my favorite part. You can
take the cartridge out and switch it to a new one, even if it's not empty, and guess what... there is no spillage!
Seriously, no leaks! Come on, now, there is not many things I hate more than spilled "vape juice"! I feel lucky to
have found Cue products and I really feel like it is just another stepping stone to help me on the journey I am on
this year.
What about you guys? How's it going with your goals for 2018? Have you found any great tools or products out
there to really help you reach your goals? Let me know in the comments below!!
NOT FOR SALE TO MINORS. California Proposition 65 Warning Statement: WARNING: This product can
expose you to chemicals including nicotine, which is known to the State of California to cause birth defects
or other reproductive harm. For more information, go to www.P65Warnings.ca.gov. WARNING: This product
contains nicotine. Nicotine is an addictive chemical. Cue™, the Cue Logo and Vaping. Made Simple.
®
are trademarks of Digirettes, Inc.