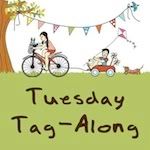 So, it's another Tuesday!!! I'm happy to be participating in some more Tuesday blog hops! I really enjoy meeting new people, and of course growing my blog, and helping my new friends grow theirs!
Blogging has been going really well lately, I just reached 200 followers, as I am sure you all know. (THANKS AGAIN!) I also have had lots of companies contact me for reviews/giveaways, which is what I wanted to do in the first place, I just didn't think it would happen so quickly! So, I'm excited about that too! I never thought that within the first two months of blogging, I would feel overwhelmed by all the products I had to review!!! :)
Other things, are not so great. I am having a down week this week. I just can't seem to get things together. Yesterday was Tater's preschool screening. He did a great job, was very nervous, and made me cry a lot. :) However, when we got there, they announced that his "back to school night" had been changed from last night to tonight. And tonight I start my job. So I have to miss it.
It sounds stupid, I know, but I am really upset by this. I don't want his daddy to take him. I want to take him. He's been with me since he was born, and now it's time to let him go (4 hours a day, 4 days a week lol), and I want to be the one to take him. But anyways, there isn't any way around it. I can't miss my first night of work, especially when I asked off for Monday b/c I thought it was Monday. Sigh.
I just am not having a good week. I feel like things are spinning out of control, and I can't get my shit together. Tater's school, starting work, financial problems, even relationship issues. I can't get ahold of things, I am so ready for things to calm down. Shew. Hopefully they will soon.
But, excited to start back to work tonight! :) Hope I make some $$$!
Hello to all my new followers! Just leave me a comment and I will be sure to follow you back, just as soon as my latest nervous breakdown is over! :)
XOXOX, Dawn