So, are you guys surprised to see a Gift Guide post that doesn't involve toys or babies!?? LOL We all know that I have a bit of a problem remembering that I am actually a WOMAN and not just a MOMMY so I thought that I would focus on something a bit different today!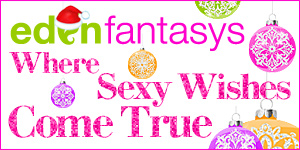 As a member of Eden Fantasy's wonderful blogger program, I have the opportunity to receive gift cards to their
adult toy store
through sponsored posts and stuff like that.. This gives me a chance to purchase some amazing things for myself that I would never otherwise do!
If you are like me and not a very risque' mama, not to worry! There are plenty of things for girls like us too!
Some of my very favorites are the makeup, bath and body products, and cute bra and panty sets! They truly do have something for everyone! I was even super surprised to find a ton of stuff that I would love to get for my sisters and girl friends for Christmas gifts! (And, I mean safe-for-work gifts!)
And, if you are looking for a sexy gift to surprise your significant other, check out their selection of
sexy costumes!
I love this one!
If you are interested in participating in Eden Fantasys Blogger Program, I totally recommend it! Feel free to email me if you have any questions!
This post sponsored by EdenFantasys.com